At each check-up your current medical and dental histories will be thoughtfully reviewed and updated. It is important to update current medications and allergies as well as any heart treatments, joint replacements, or any additional chronic conditions being treated by your physician. This will help us to provide you full scope treatment with the knowledge of your particular health variables. A blood pressure reading will also be taken at the beginning of appointments as a courtesy. Frequently patients are not being seen regularly by a physician and we value overall health as well as oral health.
Preventive, regular dental cleanings are an integral part of the check-up visits. Chief concerns should be brought to the attention of your hygienist upon arrival and appropriate dental x-rays will be exposed, evaluated, and discussed. We use the most advanced digital x-ray equipment to provide a safe and efficient experience for our patients. Your hygienist will remove all bacteria- harboring plaque and tartar buildup from along the gumline and between the teeth which may have been missed by brushing and flossing. This time spent also represents an important opportunity for hygiene education of home care methods that will maintain and protect your healthy smile for years to come. A final detailed polishing of the teeth will leave your mouth feeling fresh and clean long after your dental visit.
A thorough examination will be performed of your dentition and oral soft tissues as well as external supporting areas of the head and neck, including TMJ(jaw joints). These regular screenings will allow us to vigilantly monitor any development of common dental conditions such as tooth decay and gum disease and additionally less common oral symptoms which may evidence a deeper systemic issue. Externally, swollen glands or lymph nodes may be a signal of an active or chronic infection that requires further attention. TMD(temporomandibular dysfunction) is a relatively common condition and has a variety of causes and possible solutions which should be discussed with your Dentist and Dental Hygienist. Often it is related to clenching, grinding (bruxing) of the teeth and some causes may include misalignment of your bite (occlusion), obstructive sleep apnea, or simply an increase in stress. Treatment planning may include referral to correct one or more underlying causes or if no treatable underlying causes are noted a Nightguard will likely be recommended to preserve the integrity of the teeth and jaw joints. A final and vital component of these bi-annual exams is the oral cancer screening. As your dental professionals we are charged with detecting suspicious oral lesions as we have more access than most patients' physicians. If a lesion is detected a follow up visit will be scheduled to ensure that the lesion has resolved.
Go Back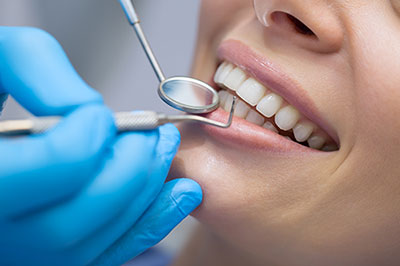 Our Location
1220 East US Highway 45
Suite 200

Vernon Hills
,
IL
60061
Office: (847) 268-2238
Emergency: (847) 638-7222
Follow Us